The Saddleback Civil Forum Changes the Face of American Politics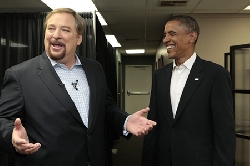 Pastor Rick Warren Stakes Out Common Ground for the Common Good in Presumptive Presidential Nominees First Joint Appearance
Contact: A. Larry Ross, 469-774-6362; Whitney Kelley, 214-457-1398; Kristin Cole 615-289-6701; media@rickwarrennews.com
LAKE FOREST, Calif., Aug. 17 /Standard Newswire/ -- Presidential hopefuls Senators Barack Obama (D-Ill.) and John McCain (R-Ariz.) chose an unprecedented venue and format for their first joint appearance in the campaign. For the first time in American history, the presumptive nominees had a formal, televised conversation with one of the nation's leading pastors – Dr. Rick Warren of Saddleback Church -- at the Saddleback Civil Forum on the Presidency. This non-debate format event was broadcast live on several television and radio networks and live-streamed on many Internet sites.
Photo: Senator Barack Obama is greeted by Pastor Rick Warren in the green room just prior to the beginning of the Saddleback Civil Forum on the Presidency; hi-resolution version and additional photos available
"We believe in the separation of church and state, but we do not believe in the separation of faith and politics," Warren said. "I don't happen to agree with everything either of the candidates teach or believe, but they both care deeply about America. They're both patriots and they have very different views on how our nation can be strengthened. We've got to learn to disagree without demonizing each other and we need to restore civility in our civil discourse and that's the goal of the Saddleback Civil Forum."
The two-hour event, attended by nearly 5,000 church members in the main auditorium and remote overflow venues, began with Warren posing questions first to Sen. Obama, as determined by a coin toss, after which the two candidates met on stage and embraced in one of their last appearances prior to their respective conventions. The second half of the program featured the same questions directed to Sen. McCain by Warren, who stressed that the candidate had been placed "under a cone of silence" prior to his turn on stage.
Warren organized his thoughtful, yet hard-hitting line of inquiry into four categories, including Stewardship, Leadership, Worldview and America's Role in the World. The questions covered a wide range of topics, ranging from the candidates' values, vision and virtues as applied to many of the critical issues of interest to the faith community and general public, including a discussion on abortion, traditional marriage, stem cell research, education, religious persecution, world orphans, the theory of evil in the world, and their vision for the future of America – at home and abroad.
When Warren asked Obama about what Christianity means to him on a daily basis, the Senator responded, "It means I believe that Jesus Christ died for my sins and that I am redeemed through Him. That is a source of strength and sustenance on a daily basis. I know that I don't walk alone. But what it also means, I think, is a sense of obligation to embrace not just words, but also through deeds and expectations that God has for us. And that means thinking about the least of these - acting justly, loving mercy and walking humbly with our God."
In response to that same question about his personal Christian faith, McCain replied, "It means I am saved and forgiven." He expounded further in a question about religious persecution, "Our Judeo-Christian principles dictate that we do what we can to help people who are oppressed throughout the world. I would like to tell you that I still think that even in the worst places in the world today, they still harbor this hope and dream someday to be like us and have freedom and democracy. We remain, my friends, the most unusual experiment in history and I'm privileged to spend every day of my life in it. I know what it is like to be without it."
The hardest hitting questions of the evening centered on abortion and stem cell research and demonstrated one of the most striking differences between the two candidates, as Warren asked, "At what point is a baby entitled to human rights?"
McCain quickly answered, "At the moment of conception. I will be a pro-life president, and this presidency will have pro-life policies."
After mentioning that the specific definition of when life begins was "above my pay grade," Obama replied, "I am pro-choice because, ultimately, I don't think women make these decisions casually. Rather, they wrestle with these things in profound ways." However, Obama did say he was in favor of limits on late-term abortions.
Both candidates agreed on the definition of marriage, believing it is a union between one man and one woman, a unique status that should be preserved. Obama said that he is for civil unions for same sex couples, but both he and McCain agreed that issue should be left to the states.
After both candidates had departed the stage, Warren concluded the evening by reminding the live, television, radio and Internet audiences that, "one of the greatest freedoms we have here in America is the freedom of speech -- even the freedom to protest this meeting. That's a good thing, but we have to learn how to have civility in our civilization -- how to stop being rude; how to stop demonizing each other; and how to have a discussion and a debate -- because we all want America to be a greater place."
The Saddleback Civil Forum was established to promote civil discourse and the common good of all. The first forum, held during Passover week this year, featured five Jewish World War II Holocaust survivors sharing their stories. The next Saddleback Civil Forum in September will feature former British Prime Minister Tony Blair.
EDITOR'S NOTE: For backstage and program photos and a full transcript of the event, visit www.rickwarrennews.com. For additional information about the Saddleback Civil Forum, or to schedule an interview with Rick Warren, please contact Kristin Cole at A. Larry Ross Communications at 972.267.1111.