Americans and Canadians Arise in New York Against Assisted Suicide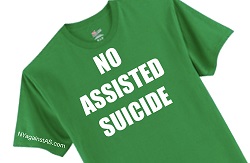 Press Conference Announcement
Contact: Dawn Eskew,
New York Against Assisted Suicide
,
631-487-7578,
info@nyagainstas.com
NEW YORK, May 2, 2018 /
Standard Newswire
/ -- New York Against Assisted Suicide joins forces with citizens across the United States and Canada with a press conference on May 3rd, 2018 @ 9:30 a.m., outside 250 Broadway, NY, NY 10007 where the NY State Assembly Health Committee is holding a legislative hearing on the assisted suicide bill - Assembly Bill A2383A.
Present at the conference will be Dr. Paul Saba, a family physician from Montreal, Canada who has practiced both in the United States and Canada. He will describe the present dangers and needless loss of lives of assisted suicide laws in Canada and around the world.
John Virdone, Esq. a New York elder law attorney will expose the abuses and harmful practices this proposed legislation will have on certain groups of New Yorkers.
Julie Hocker, a Senior Policy Fellow for the Center or Human Dignity at the American Conservative Union Foundation in Washington, D.C describes the marginalization of the elderly and disabled with assisted suicide laws.
Dawn Eskew, founder of New York Against Assisted Suicide, representing thousands of supporters and numerous organizations across New York State, will highlight how assisted suicide is being forced upon New Yorkers.
The press conference will be followed by direct questions from the media. For more information contact Dawn Eskew at 1(631) 487-7578 or email
info@nyagainstas.com
.