Plan Steps Up Darfur Operations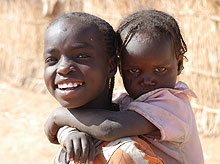 Plan is stepping up its operations in the conflict ridden Darfur region of Sudan.
Contact: Plan International Media Office, + (44) 1483 733 285
MEDIA ADVISORY, Mar. 8 /Standard Newswire/ -- Speaking on his return from the region, Plan Chief Executive Officer Tom Miller said: "Our commitment to Darfur is taken in full awareness of the dynamic and fluid environment. However, the scale of the humanitarian situation facing the children and communities of the region is too much for us to ignore."
Photo: Two girls at play in a displaced persons camp in north Darfur
Over the next few months Plan's programs will target displaced children aged four to 18 and centre on three key areas:
humanitarian assistance during the conflict and early post-conflict stage
formal, basic education for grades one through to eight
youth-focused learning spaces/centres
Plan's programs will draw on the lessons learned from our work in Darfur over the last two years and are the result of extensive discussions with the Ministry of Education, the Ministry of Youth and Sport, UN agencies, non-governmental organisations active in Darfur, as well as children, young people, parents and teachers.
All our work will lay the foundations for future long-term development programming.
As a result of continued security concerns, our area of operations will initially be limited, and centre on the camps of displaced people in north Darfur, surrounding our regional headquarters in Al Fasher.
Life in the camps
In a desert area the size of France, almost two million of Darfur's six million inhabitants are now classified as 'internally displaced persons' - many of them are children.
For these children especially, the conditions are harsh. Forced from their homes they now live in makeshift shelters in makeshift communities. They have lost friends and family members to militia groups, and seen others dispersed to different camps. Their home is now the camp but when asked all they talk of is their village or community.
The main concern is security - food security, water security, and personal security.
There is some food and water - but not enough, and no physical security. For example, Al Salam camp, home to 55,000 people, has no fences or police force to protect it and is sufficiently removed from the town to offer an easy target for militias.