Apparition Promoters Seek Influence in Father Aloysius Sainthood Inquiry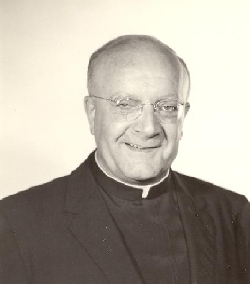 Contact: Heather Gallagher, 512-773-5447
LOS ANGELES, Nov. 11, 2017 /Standard Newswire/ -- Dan Brown's recent bestseller "Origin" is the perfect backdrop for an upcoming sainthood inquiry scheduled for next week at the Tribunal Offices of the Archdiocese of Los Angeles, California. According to parties supporting the cause, promoters of the so-called apparitions of Garabandal, located in Spain, may seek to use the Fr. Aloysius Sainthood Cause to gain support for their movement.
In Brown's recent novel, a Garabandal promoter, Clemente Dominguez, becomes the leader of a group within the Catholic Church that does not accept the present pope, the new Mass, and reforms of the Vatican Council. Like a sub-plot in the Brown novel, promoters of Garabandal, as the apparitions are referred to, may reach into the past to find some approval by Fr. Aloysius Ellacuria, CMF. The saintly priest died years ago (1981). Those petitioning for Fr. Aloysius say there is no credible evidence of his support of Garabandal. They contend that Fr. Aloysius never approved the apparitions, he never promoted them, and he always supported the Catholic Church's position on the subject.
When a bishop says that an apparition lacks what's needed for approval by the Church, priests unite behind their bishop. In the Garabandal case, according to witnesses, Father Aloysius sided with the bishop. This is the position of those presenting the cause for Fr. Aloysius.
The inquiry, which begins on Friday, Nov. 17th, may hear testimony on what Father Aloysius said about the alleged apparitions. The controversy is not new. Twenty years ago Fr. Aloysius' lawyer, Joseph O'Connor of San Diego, questioned claims in a book written by Garabandal promoter, Jeff Moynihan. Moynihan believed so strongly in the apparitions that he married one of the seers, Jacinta Gonzalez.
Now it's up to the tribunal to determine whether or not Fr. Aloysius actually had a position on the matter. Perhaps even more important, how much difference does this make fifty years later.
Additional Information on Catholic apparitions.
Association for Fr. Aloysius Ellacuria, CMF