Operation Rescue Rallies Support for Father Frank Pavone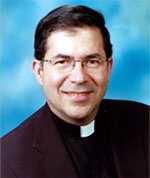 Contact: Troy Newman, President, 316-841-1700; Cheryl Sullenger, Senior Policy Advisor, 316-516-3034; both with Operation Rescue; info@operationrescue.org
AMARILLO, Texas, Sept. 26, 2011 /
Standard Newswire
/ -- For the last two weeks, one of the pro-life movement's most influential leaders has had his prolife work sidelined. Father Frank Pavone (photo), a faithful Catholic priest in good standing, has been called back to his home diocese by his Ordinary, Bishop Patrick Zurek of Amarillo, Texas. Rather than disobey the order, Father Pavone honorably chose to comply and now sits idle in a convent an hour's drive outside Amarillo.
"Every moment a defender of the preborn children sits inactive is an opportunity for the abortion cartel to continue its destructive tyranny on the pre-born," says Troy Newman, President of Operation Rescue.
Here are two vital steps every concerned American should take to help Father Pavone resume his godly calling.
1.
Add your name to the "Open Letter to Catholic Bishops" by going to
www.ISupportFatherFrank.com
You will be joining Pro-Life/Pro-Family leaders like Dr. James Dobson, Wendy Wright, Dick and Rich Bott, Marjorie Dannenfelser, Gregg Cunningham, Mark Crutcher, Jill Stanek, Star Parker, Steven Ertelt, and many, many more.
2.
Sign the petition to Bishop Zurek, asking the Bishop to amicably resolve his differences with Fr. Frank and, for the sake of the unborn, let him return to his full-time pro-life ministry.
www.ipetitions.com/petition/fatherpavone/
Troy Newman, President of Operation Rescue states, "These two action items need to be done immediately. We are also asking that everyone post this release on their social networking sites to help spread the word. Operation Rescue extends its sincere thanks to all concerned pro-life Christians who help with this urgent matter."