Christians Still Believe Obama is the Antichrist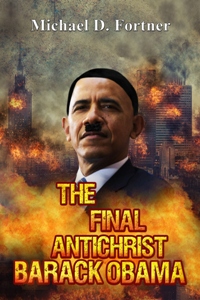 NEWS PROVIDED BY
Trumpet Press
Jan. 21, 2020
LAWTON, Okla., Jan. 21, 2020 /Standard Newswire/ -- Is Barack Obama the Antichrist? That is what millions of Christians believe. While Obama was president, so many people thought that Obama was the Antichrist that it became a news story in many major media outlets, including Newsweek and the Los Angeles Times.
Even though Obama is no longer holding a public office, the number appears to be holding, perhaps even growing. A new book claims to present evidence that Obama is the Antichrist: The Final Antichrist: Barack Obama, by Michael D. Fortner. It has a picture of Obama on the cover, looking like Hitler.
The book lists the many attacks which the Obama administration made upon people of Faith in America, including the military. It also shows the abysmal relationship Obama had with Israel and the underhanded things he did against Israel. While at the same time, he had a great relationship with Islamic nations, including making secret deals with Iran.
He also makes a case for Obama being a secret Muslim and having already made a deal with Satan. He shows the signs that God has given to Christians to help them see that Obama is the Antichrist, like Obama writing on a steel beam, "We remember, We rebuild, We come back stronger!" Each on a separate line. The letter W in Hebrew gematria equals 6, which makes Obama having written 666.
The author also includes many quotes from people who claim that God told them in a dream or vision that Obama is the Antichrist. And that Trump and Pence will both be removed, and Obama could somehow come back into power, at least for a short time. He said one of the first things Obama will do is write an Executive Order to confiscate the guns, thus causing a civil war.
It is just the sort of book that right-wing Christians love to read.
Even though this is not the first book published that claims that Obama is the Antichrist, it is the first one with the potential for wide distribution and sales through Ingram wholesale, Amazon.com, and other major retailers.
SOURCE Trumpet Press
CONTACT: Michael Fortner, okmedia@gmail.com