Pope Approves Clemente Canonization Cause, Miracle Mandate Met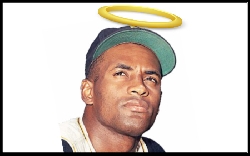 Contact: Father Jose Ramos, 011-39-06-698-83538
ROME, July 24, 2017 /
Standard Newswire
/ -- A baseball player is on the way to becoming the next saint. The idea may sound like it is out of left field, but the pitch thrown to Pope Francis by filmmaker Richard Rossi turned out to be an unlikely strike.
What about the requirement for a miracle to greenlight the canonization of baseball icon Roberto Clemente beyond beatification? It was met today, according to Sports Illustrated and the Associated Press. He is now declared officially "blessed."
Olympian Jaime Nieto was paralyzed from the neck down in a backflip accident three years after Rossi's controversial film "Baseball's Last Hero" was released. Nieto starred in the lead role of Roberto Clemente. His stellar acting in portraying Clemente's Christlike decision to give his life to save others caught the pontiff's attention, inspiring the Clemente canonization campaign. Saturday in El Cajon, Ca., Nieto walked 130 steps at his own wedding to fellow Olympian Shevon Stoddart.
The miracle was predicted in a documented letter Rossi sent Pope Francis. (Rossi wrote and directed the film). He said Nieto's walking will be a "demonstration of the power of God."
"In meditation, it was revealed to me that Roberto Clemente was a saint," Rossi said in the letter to Pope Francis, sent a year ago. "I saw a miracle healing of Jamie Nieto. He will walk at his own wedding to show the grace of the sacrament of marriage. Jesus performed his first miracle at the wedding of Cana."
Pope Francis agreed if the miracle happened as Rossi predicted, the canonization of Roberto Clemente would go forward.
Rossi visited Nieto after the accident and prayed for his healing. "You will come back and walk like the bionic man." Rossi said.
"The mythologizing of him, while done with good intentions, smooths over the jagged reality of his life," David Maraniss said. "He was no saint. Once, outside the stadium in Philly where he often mingled with fans, he once threw a punch at a young man who he took to be too aggressive." Maraniss wrote the bestselling biography "The Passion and Grace of Baseball's Last Hero."
"I've never thought of him in terms of being a saint," said Mets second baseman Neil Walker, a devout Catholic whose father knew Clemente. "But he's somebody who lived his life serving others, really. So if it would happen, I wouldn't be terribly surprised by it."