Distance Runner Craig Virgin Elected into USA National Track and Field Hall of Fame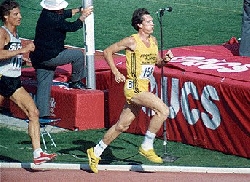 Contact: Karen Fox, 877-861-4422
LEBANON, Ill., Nov. 8 /Standard Newswire/ -- Three-time Olympic 10,000m runner and two-time World Cross-Country champion, Craig Virgin, was elected into the USA National Track and Field Hall of Fame.
At his request, Virgin has deferred his induction until December 2011, when the ceremony will be held at the USA Track & Field National Convention set for St. Louis near his home.
Virgin was raised on a family farm near Lebanon, Illinois. In June 1973, Virgin broke the late Steve Prefontaine's national high school two-mile record with a clocking of 8:40.9, a time that still ranks as the second fastest time ever ran by a prep in an all-high school competition.
At the University of Illinois, Virgin won nine Big 10 individual championships, one NCAA Cross Country Championship in 1975, and was second at the 1976 USA Olympic Trials 10,000m behind Frank Shorter to make his first Olympic team. He was a nine-time NCAA All-American.
He is the only American man to qualify for three U.S. Olympic Track and Field teams in the 10,000m. He qualified for the 1976, 1980, and 1984 teams.
The 1980 U.S. Olympic boycott denied Craig the opportunity to compete in Moscow, when he possessed the fastest 10,000m time in the world and had won the World Cross Country Championships earlier that year. Virgin ran the 10,000m in 27:29.2 in Paris in 1980, the second fastest time in history behind Henry Rono's 1978 world record of 27:22.47. Weeks later, the winning time at the 1980 Olympics was 27:42.69.
Virgin is the only USA male athlete to win the World Cross Country Championships and he did it twice. His victories came in Paris (1980) and Madrid (1981).
Craig Virgin set seven U.S. national records in both track and road events. He competed in only four marathons, but finished second at the 1981 Boston Marathon with a time of 2:10.26. Chronic knee problems prevented him from further developing in the marathon.
Craig Virgin was born with urological disease. Reconstructive surgery in the eighth grade allowed him to start his running career the next year. Also, Virgin survived a near fatal head-on car collision with a wrong way driver in 1997, which prematurely ended his competitive masters career.
"I'm proud to join so many of my own heroes in the Hall of Fame. It's especially nice to be honored by both my peers and fans in our sport," says Craig.