Prison Visitation Ban Overturned for Children of Prisoners in Zimbabwe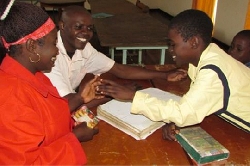 Contact: Lindsey Frederick, Prison Fellowship International, 703-554-8669

WASHINGTON, Feb. 8, 2018 /Standard Newswire/ -- Children of prisoners in Zimbabwe are celebrating after Prison Fellowship Zimbabwe (PFZ), an affiliate of Prison Fellowship International (PFI), successfully lobbied to overturn a prison visitation ban. This is a breakthrough for Zimbabwean children of prisoners under 18 years old, who were not permitted to visit anyone in prison—even their incarcerated parent.

"There is a growing awareness and evidence, globally, of the significant impact on children and inmates when children can visit their parent in prison," says PFI's International Director of Child Sponsorship Adam Hutchinson. "Studies show children who maintain a connection with their incarcerated parent report higher feelings of safety, stability, and overall emotional wellbeing. There is always a reduced likelihood of a parent re-offending after release, meaning families are stronger and children are better cared for."

After a series of meetings with the Zimbabwe Prison and Correctional Service to present prison visitation as a rehabilitative tool for prisoner behavior, children from five families in PFZ's children of prisoners program were granted visitation. Some, like 10-year-old Precious, had not seen their fathers in nearly a decade.

"Feedback from these families is that the children's behavior changed positively and they couldn't stop talking about such a memorable event," says Wilson Femayi, PFZ children of prisoners program manager. "The prison social workers also reported a remarkable behavioral change in inmates who met with their families for the first time."

After the successful trial visitations, government officials agreed to institute an annual visitation week open to all children of prisoners throughout the country. The impact of this decision has encouraged Prison Fellowship International affiliates in Rwanda and Zambia to make similar appeals to their own prison visitation laws, which are already yielding similar results.

About Prison Fellowship International:
Prison Fellowship International helps restore justice and healing in response to crime in more than 120 countries. For more information or to become a child sponsor visit www.pfi.org.

About Children of Prisoners Sponsorship:
Prison Fellowship International's child sponsorship program helps rescue, restore, and rebuild the lives of innocent children of prisoners throughout eight countries. Through one-to-one sponsorship relationships, children receive access to food, medical care, education, safety, and spiritual and emotional support. Prison Fellowship International affiliates deliver these services through partnerships with local government, NGOs, and churches. For more information, visit www.pfi.org/rescuing-children.

Tweet