'Lighthouse Loyalty' by Sarah Kay Bierle Highlights Traditional Family Values in American History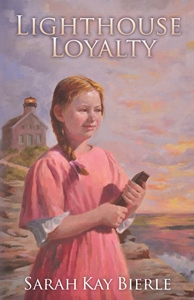 Contact: Sarah Kay Bierle, Gazette665, 951-238-7480, sarah.bierle@gmail.com
TEMECULA, Calif., Nov. 13, 2017 /Standard Newswire/ -- Sarah Kay Bierle's new historical novel, "Lighthouse Loyalty" presents traditional family values and character qualities while emphasizing the role of American families living in lighthouses in mid-19th Century America.
Bierle's third book, released at the end of October, offers a fascinating perspective on the historical details about a nine-year-old girl's life at a New England lighthouse in 1867. Focusing on dedication, courage, and loyalty, the historical novel illuminates challenges and secrets created by the American Civil War and how those secrets could have affected family life. Published as historical fiction, Bierle describes her novel as "a story in which the main characters are fictional, but their actions are consistent with historical documentation, settings, and events of the era, presenting a snapshot of life at a lighthouse and conflicts after the Civil War."
Bierle's research on mid-19th Century American Maritime History included details on maritime merchants, the whaling industry, Civil War blockade runners, and, of course, lighthouses, lightkeepers, and lighthouse families. When asked by an inquirer how she researched the facts for this book, Bierle replied, "I had the privilege to work with historians in the National Park Service who guided my studies on lighthouses and the families who lived there. My appreciation for the subject has given me a desire to continue the research. There are still many lighthouses that I would like to visit and explore."
Sarah Kay Bierle is a historian, writer, and editor who has wanted to write books since age nine. Bierle was homeschooled from kindergarten through high school, completed an accelerated distance learning program for college, and graduated from Thomas Edison State University with a BA in History. Seeking to find innovative ways to encourage interest in history, she currently serves as co-managing editor for Emerging Civil War and coordinates an annual history conference in Southern California.
While "Lighthouse Loyalty" is a historical fiction novel, it reminds readers that "where there is hard work, loyalty, and family love, there is light." It is recommended as family-style reading, suitable for ages 10 and older.
"Lighthouse Loyalty" is available online at the author's website Gazette665.com, Amazon, or Barnes & Noble.