Investigation Finds Racism at Planned Parenthood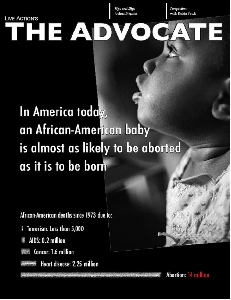 Contact: Lila Rose, The Advocate, 408-497-3982
LOS ANGELES, Feb. 27 /Standard Newswire/ -- A student magazine at UCLA, The Advocate, released phone recordings of Planned Parenthood staffers approving a donor's racist agenda, prompting students to begin a petition to request that UCLA administrators cut programs and affiliations with Planned Parenthood. The magazine conducted a seven-state probe to ascertain how Planned Parenthood development centers would respond to a caller who expressed explicitly racist motives behind his donation.

An actor, posing as a racist donor, called Planned Parenthood development centers and asked that his donation be used to abort African American babies in order to "lower the number of black people." Each branch agreed to process the racially earmarked donation, with some encouraging the racist motive behind it. None expressed concern about the racist reasoning for the donation.

When the actor stated in a phone conversation with an Idaho Planned Parenthood that "the less black kids out there the better," Director of Development Autumn Kersey called his position "understandable" and indicated she was excited to process his donation. An Ohio representative, Lisa Hutton, tells the donor, when informed of his racist agenda, that Planned Parenthood "will accept the money for whatever reason."

UCLA senior Jose Manaiza called upon fellow African American students and the entire UCLA student body to "commit to this new era of the Civil Rights Movement and fight any type of racism from Planned Parenthood." Manaiza, a 2007 nominee for the UCLA Student of The Year award and winner of the 2007 UCLA Chancellor's Service Award, believes that targeting blacks for abortion violates the civil rights fought for by his hero, Dr. Martin Luther King, Jr.

A student campaign, led by Lila Rose, sophomore at UCLA and Editor-in-chief of The Advocate, has begun petitioning UCLA to end ties with Planned Parenthood. Dr. Alveda King, niece of Martin Luther King, says she supports "the student campaign to get UCLA to cease its programs with Planned Parenthood."

As part of their campaign, students have entered into discussions with UCLA administrators regarding the university's relations with Planned Parenthood. So far, Vice Chancellor of Student Affairs Janina Montero has declined to comment on The Advocate's investigation or the student campaign.

Rose, whose previous work through The Advocate has been featured on The O'Reilly Factor and national radio, says she is hopeful that regardless of their position on abortion, students can stand together to combat Planned Parenthood's racism, both past and present.