Evangelicals Join Forces in October to Pray for Victims of Gun Violence on Survivor Sunday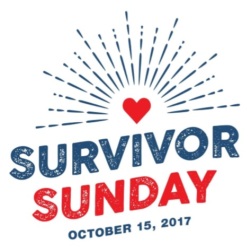 The Dietrich Bonhoeffer Institute joins with prominent church leaders and the Prayer Warriors Against Gun Violence social network to launch nationwide remembrance on October 15, 2017

"God bless Prayer Warriors Against Gun Violence, Rev. Rob Schenck and the Dietrich Bonhoeffer Institute for organizing a national prayer effort appropriately titled Survivor Sunday. With our present epidemic of gun violence, we must not forget the survivors who are also victims. Let's all support them with prayer and compassion!" -- Dr. Joel C. Hunter, Chairman of the Central Florida Commission on Homelessness and Former Senior Pastor, Northland, A Church Distributed (Florida)

"In 1980, my 25-year-old mother was shot and killed. Then in 2016, my 18-year-old nephew was also shot and killed. This Survivor Sunday, I will be honoring their memory and leading my congregation and community in prayer for countless others who have lost someone to gun violence. As believers in Christ, we have an opportunity this Survivor Sunday to be agents of change against senseless gun violence." -- Lorenzo Neal, Author, Radio Host and Pastor, New Bethel African Methodist Episcopal Church (Mississippi)

"It's been almost 5 years since my son, Jordan, was murdered by a man with a gun for playing loud music in his car with a friend. The pain of losing my only child still continues to burn in my heart. And each day that I meet another grieving parent of a lost loved one, I'm reminded of the 91 people per day that will continue to die if people of faith are not engaged in saving lives. As men and women of faith, we are called to step out of the boat. Therefore, it must be the response of the Church to shoulder responsibility for taking on the task of ushering in a nationwide moral movement for gun violence prevention. This Survivor Sunday, let's lift up the slain, Church. Let's lift up the brokenhearted and rally together to preserve the sanctity of human life." -- Lucy McBath, Founder, Champion In The Making Legacy Foundation and Faith & Outreach Leader, Everytown For Gun Safety and Moms Demand Action For Gun Sense in America

"The gun violence we see in movies, usually void of the devastating consequences, are rarely a true depiction of the horrific reality. One momentary, cold-hearted act sets off a chain of broken hearts, shattered families, inconsolable loved ones, neighborhoods trapped in fear, forever altering the soul of a community. The collateral damage of a life violently ended too soon, continues for generations. On this Survivor Sunday, PRAY that God would heal our land, leading us away from violence, hate and murder to love, kindness and understanding. PRAY that God would bring comfort to the afflicted with His loving Presence. And PRAY that God would mend the broken hearts that have been visited by senseless loss." -- Dan Rupple, CEO, Mastermedia International

Contact: Morgan Canclini-Mitchell, 817-944-1071

WASHINGTON, Sept. 21, 2017 /Standard Newswire/ -- The social network Prayer Warriors Against Gun Violence announced today it is joining forces with The Dietrich Bonhoeffer Institute (TBDI) and prominent church leaders across the country to launch the first annual Survivor Sunday on October 15, 2017. In what is intended to be a yearly commemoration, a range of evangelical leaders and survivors are inviting individuals and churches to come together in prayer for those whose loved ones have been injured or killed as a result of gun violence. Survivor Sunday is also intended to raise awareness of the more than 30,000 Americans lost and over 81,000 Americans who are injured annually as a result of gun violence in the United States.

"Survivor Sunday is a wonderful way for Christians to reach out with the love of the Great Physician to those devastated by gun violence," said president of The Dietrich Bonhoeffer Institute, Rev. Dr. Robert Schenck. "A bullet can take a life suddenly and frighteningly, but it can also leave survivors, loved ones, witnesses, and even whole communities deeply traumatized and in bondage to fear. Survivor Sunday telegraphs the critical message that Christians care about all the ways in which people suffer after a gun is used to harm someone. It is a powerful, prayerful ministry of compassion."

Schenck joins a number of pastors, church leaders and influencers who have committed to pray for victims of gun violence, including radio host and founder of INSIGHT Church in Chicago, Pastor James Ward Jr.; writer and pastor of New Bethel African Methodist Episcopal Church in Jackson, Mississippi, Lorenzo Neal; former senior pastor of Northland, A Church Distributed, Dr. Joel C. Hunter; author and Everytown for Gun Safety advisory board member Roxanna Green; and CEO of Mastermedia International, Dan Rupple.

For Roxanna Green, a member of the Survivor Sunday Leadership Team, the day's theme is close to her heart. Her nine-year-old daughter, Christina-Taylor, was tragically killed along with five others in the Tucson shooting of Congresswoman Gabrielle Giffords in 2011.

"Gun violence has taken and is taking too many lives in our country, leaving a devastating hole in the hearts of survivors who must grapple with the death of their loved ones," said Green. "I know the pain that many of these families feel. My family and I experienced this firsthand when our daughter, Christina-Taylor Green, was killed by a senseless act of gun violence. Even before our daughter was shot at the tender age of nine, our family had been committed to preventing gun violence. Since we buried Christina-Taylor, we feel an even greater urgency to stop gun-related deaths in America. My desire is that no other parent, child, friend or loved one ever has to endure the pain my family has known since that fateful day in 2011." Green continued, "On Survivor Sunday, I'm looking forward to loving on and praying with other survivors for peace, comfort and protection against future gun violence."

The statistics surrounding gun violence are staggering:
More than 2 million people will die from gun violence in the average American's lifetime.

Gun violence is the third leading cause of death for children in America.

Seventy-five percent of children shot are under the age of 12.

More people die from gun violence in the United States than any other country.

A mass shooting occurs almost every single day in America.

Women, children and babies account for nearly half of all gun-related deaths.

There are nearly twice as many suicides in the United States annually using guns as there are homicides using guns.

Since 2013, there have been over 200 school shootings in America — an average of nearly one a week.
Pastor James Ward Jr. of INSIGHT Church in Chicago, Illinois acknowledges that gun violence is a challenging subject and many evangelicals struggle regarding a solution. Hopeful that Survivor Sunday will bring love and support to those affected by gun violence, Ward suggests turning to the power of prayer as a proper response.

"While serving people, Jesus was deeply moved with compassion for them. I am proud to join the thousands of caring and compassionate people across America in praying for those affected by gun violence and to honor the memory of their precious loved ones. We pray to God our Father, who heals the brokenhearted and binds up their wounds (Psalm 147:3)," said Ward.

To learn more about the Leadership and Prayer Teams for Survivor Sunday, or to get involved, visit www.survivorsunday.org. Sample prayers, resources and take-home literature on gun-violence prevention are also available on the website. Follow the conversation about Survivor Sunday on social media @PrayToEndGunViolence or by using #SurvivorSunday.

About Prayer Warriors Against Gun Violence:
Prayer Warriors Against Gun Violence is a social community of Christians who have lost loved ones to gun violence or feel called to intercede for those who are grieving. With more than 11,000 followers on Facebook, Prayer Warriors Against Gun Violence believes in the power of prayer to change the nation and bring an end to these tragedies. To learn more about Prayer Warriors Against Gun Violence or join the community, follow them on Facebook @PrayToEndGunViolence.

About The Dietrich Bonhoeffer Institute:
The Dietrich Bonhoeffer Institute (TDBI) is a non-profit charitable and educational institution dedicated to applying the theological and ethical insights of this brilliant World War II-era Protestant church leader, Nazi resister, and moral philosopher to the social crises of our time. The Institute imagines a day when rigorous ethical reflection is part of the normal process of religious, civic, and political engagement—and that such a process requires concrete outcomes aimed at benefiting all parties. To learn more about The Dietrich Bonhoeffer Institute go to www.tdbi.org.