The Holy Christian Orthodox Church Announces the Sainthood of Martin Luther King Jr. of Georgia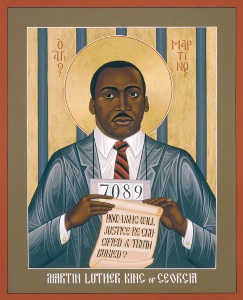 Contact: Archbishop David J. Billings, III, 800-459-0991 ext 1010
SPRINGFIELD, Mass., Sept. 7, 2016 /
Standard Newswire
/ -- Archbishop Timothy Paul, president of the World Bishops Council and Patriarch of the Holy Christian Orthodox Church (HCOC) and Christian leaders from across the globe, along with local and national civic leaders will gather together for the glorification of Saint Martin Luther King on Friday, September 9, 2016 at 6 p.m.
In June 2013, Rev. Dr. Martin Luther King, Jr. was nominated for Sainthood by the HCOC, a convergence communion of churches comprised of over 4 million churches globally. The Holy Christian Orthodox Church, also known as the Communion of Churches embraces the Eastern Orthodox Church tradition of glorification, which differs from the Roman Catholic Church in terms of canonization, which is followed by beautification.
The Eastern Orthodox Church tradition is canonization to glorification. Glorification includes that the person in sainthood will get an icon. However, Martyrs require no formal glorification. The self-sacrifice on behalf of their faith and lack of evidence of any un-Christian behavior at the time of death is sufficient.
This icon depicts Martin Luther King, one of the martyrs of the Twentieth Century. He was an ordained minister of the Baptist Church. From 1955 until his death, he led a campaign of nonviolent resistance in the United States against racial oppression and injustice. The number he wears around his neck is from a "mug shot" taken one of the many times he was arrested by American police for resisting unjust laws. The prison bars behind him represent the occasions he was placed in jail, and also the oppression and slavery of Afro-Americans in the United States. The text on his scroll is from his speech in Albany, Georgia, on December 14, 1961. The Greek inscription by his head reads, "Holy Martin." Since the eighteenth century, the faith of African American Christians in America has been tied to the struggle for freedom. Martin Luther King renewed the bond between faith and political action like the Old Testament prophets. Although his life was threatened many times, he continued to expose himself to danger. He was shot on April 4, 1968, in Memphis, Tennessee.
The glorification ceremony on Friday, will include the unveiling of the Saint Martin Luther King, Jr. icon and the inclusion of the sainted martyr in the All Saints Day observance in Christian calendars around the world.