Tibet Activists Scale Golden Gate Bridge to Protest China's Torch Relay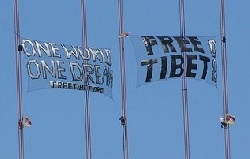 High Profile Action Demands 'No Torch in Tibet'
Contact: Lhadon Tethong, 917-418-4181; Kate Woznow, 917-601-0069; Alma David, 646-202-0704; Students for a Free Tibet, 415-244-8218
SAN FRANCISCO, April 7 /Standard Newswire/ -- Seven Tibet independence activists were detained this afternoon after three of them scaled the Golden Gate Bridge and unfurled a large protest banner reading "One World, One Dream, Free Tibet 08." The three climbers remained on the bridge for about 2 hours before coming down voluntarily. Upon their descent they were met and arrested by officers of the California Highway Patrol. The daring action comes two days before China's torch relay is expected to be greeted by thousands of Tibet protesters from across North America when it arrives in San Francisco. Already, the torch's so-called 'Journey of Harmony,' which China's leadership hoped would improve its global image and divert attention from its ongoing occupation of Tibet, has been overshadowed by boisterous protests in Olympia, Istanbul, London and Paris. In all these cities, Tibet campaigners have engaged in dramatic actions to highlight China's ongoing brutal crackdown on freedom protests inside Tibet.
Photo: April 7 Golden Gate Bridge demonstration, video footage and hi-res photos at: http://drop.io/sfapril7
"In two days, the Chinese government is bringing the Olympic torch to San Francisco, while inside Tibet it continues its brutal and violent crackdown on Tibetans crying out for freedom," said Tashi Sharzur, spokesperson for Students for a Free Tibet and one of the activists detained in today's action. "The International Olympic Committee must immediately withdraw Tibet from the Torch Relay route. Carrying the Olympic torch through Tibet would exacerbate the crisis and cause yet more suffering for the Tibetan people."
"San Francisco has a long, proud history of standing up for human rights and freedom, and we will not allow China's government to make a mockery of everything this city stands for," said Laurel Sutherlin, one of the climbers and a spokesperson for Students for a Free Tibet. "Gavin Newsom has privately agreed to express his concern with the IOC over China's torch going through Tibet. Mayor Newsom must now publicly follow up on this promise and call for Tibet to be removed from the torch route."
Tibetans and supporters from New York, Washington DC, Toronto, Minnesota, Santa Fe, Salt Lake City, Portland, Calgary, Seattle, Los Angeles, Vancouver and other cities in North America are converging in San Francisco for mass protests on Tuesday and Wednesday to demand Tibet be removed from the torch relay route.
China's latest deadly attack on Tibetans came in in Tongkor Township (Kardze County), in southeastern Tibet on April 3rd after Chinese authorities detained two monks for possessing photos of the Dalai Lama. Following a raid by over 3,000 armed police at Tongkor monastery, the police opened fire on the crowd of over 700 people - nearly half of whom were monks - gathered to protest the arrests. All Tibetan areas remain closed off to independent media, but eyewitness reports from all across Tibet describe severe beatings, suicide attempts by monks locked inside their monasteries, house-to-house searches and, in one instance, a large group of Tibetans being boarded onto a train to an unknown destination at Lhasa's new railway station.
Photos and video footage will be available at: http://drop.io/sfapril7