JW Files Complaints: Hillary Repeatedly Failed to Disclose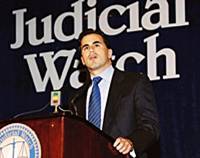 Clinton Failed to Disclose "Clinton Family Foundation" on Senate Financial Disclosure Reports on Five Occasions
Contact: Jill Farrell, Judicial Watch, 202-646-5188
WASHINGTON, Mar. 5 /Standard Newswire/ -- Judicial Watch, the public interest group that investigates and prosecutes government corruption, announced today that it filed separate complaints with the United States Senate Select Committee on Ethics and the Department of Justice concerning inaccurate financial disclosure reports filed by Hillary Rodham Clinton. As initially uncovered by The Washington Post, Senator Clinton failed to disclose her position as Secretary/Treasurer of the Clinton Family Foundation on five occasions, despite requirements by the Ethics in Government Act.
Photo: Judicial Watch President Tom Fitton
Judicial Watch's Senate ethics complaint, filed on March 1, 2007, notes that Senator Clinton's failure to comply with disclosure requirements represents "improper conduct that reflects upon the United States Senate."
"Failure to comply with federal reporting requirements must be taken seriously by the Committee," wrote Judicial Watch President Tom Fitton. "The Committee should investigate whether Senator Clinton's failure to disclose her family foundation is a willful violation of the rules and law governing such disclosure."
As Judicial Watch also notes in its March 5, 2007 complaint filed with Attorney General Alberto Gonzales, the Ethics in Government Act permits the Attorney General to "bring a civil action in any appropriate United States district court against any individual who knowingly and willfully falsifies or who knowingly and willfully fails to file or report any information that such individual is required to report…The court in which such action is brought may assess against such individual a civil penalty in any amount, not to exceed $10,000."
The Clinton Family Foundation, launched in 2001, enabled the Clintons to write off more than $5 million from their taxable personal income. There seems to be motive for a willful violation of the law in that some of the foundation's expenditures touch upon issues related to foreign policy and other controversial matters, including a contribution to an individual involved in Senator Clinton's questionable commodities trading in the 1970s.
"Senator Clinton is not above the law," said Judicial Watch President Tom Fitton. "The Justice Department and the Senate need to take this important disclosure law more seriously. Moreover, Hillary Clinton has to learn to start playing by the rules. She should be treated like any citizen (or corporation) who fails repeatedly to abide by federal reporting requirements."
Judicial Watch details in its Justice Department complaint, several members of Congress seem to have violated the Ethics in Government Act in recent years without repercussion, including former Senator Bill Frist, Senator Harry Reid, and Speaker Nancy Pelosi.
To review Judicial Watch's complaints against Hillary Clinton and all related documents please visit JW's Internet site, www.judicialwatch.org.