Patriot PAC Announces Operation Black Storm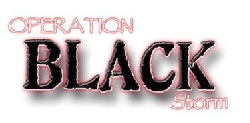 Groups Join Forces to Promote Conservative Black Candidates
HOUSTON, Texas, Oct. 12 /
Standard Newswire
/ -- Patriot PAC has unveiled
Operation Black Storm
, a national coalition effort to unite the nation behind the 15 black conservative congressional candidates running in key districts around the country as Republican nominees for the upcoming November elections.
Helping to lead the charge among the Tea Party and Patriot movement in America for substantive political reform, Operation Black Storm will fight to fundamentally reshape the makeup of the U.S. Congress on November 2, 2010.
Star Parker - CA-37, Ryan Frazier - CO-7, Allen West - FL-22, Isaac Hayes - IL-2, Marvin Scott - IN-7, Robert Broadus - MD-4, Charles Lollar - MD-5, Bill Marcy - MS-2, Michael Faulkner - NY-15, Bill Randall - NC-13, Tim Scott - SC-3, Charlotte Bergman - TN-9, Stephen Broden - TX-9, Chuck Smith - VA-3, and Vince Danet - US Virgin Islands are Operation Black Storm candidates, several of whom have received endorsements from conservative grassroots favorites Sarah Palin, Newt Gingrich and Alan Keyes.
This coalition has put its collective weight behind these highly qualified conservative black candidates to provide the resources and exposure they need to win on Election Day. Coalition members helping with voter education and candidate scorecards include Break the Bonds of Tyranny, Unite in Action, The ConservativeMESSENGER, The Frederick Douglass Foundation, and The Black Sphere, among others.
Political Action Committees participating with endorsements and financial support include iCaucus, Patriot PAC, Frederick Douglass Foundation PAC, Declaration Alliance PAC and more.
K. Carl Smith, President of The ConservativeMESSENGER, declared, "We want to reignite America's passion for liberty and create an atmosphere for political dialogue where conservative candidates can engage in conversation about the issues without being accused of racism or called Uncle Toms. Today marks the beginning of the end of playing the race card to silence conservative voices and keep blacks voting opposite their core values."
Operation Black Storm's mission is to provide vital support, so there is heightened national voter awareness of the policy positions and the governing philosophy of these outstanding new leaders for America. It's time for conservatives to make a statement on the racism issue and Patriot PAC and its coalition are intent on ensuring this statement is made loud and clear.
Smith continued, "It's finally time for our nation to get past racial barriers in politics, and with Operation Black Storm we intend to send a message to Washington that--above all--Americans of all backgrounds, colors, and decent faiths want their God-given right for SELF-RULE."
Patriot PAC is an independent Political Action Committee sponsoring Operation Black Storm.
More information on this initiative can be found at www.OperationBlackStorm.com