Bold New Movement Makes Special Appearance at Sundance Film Festival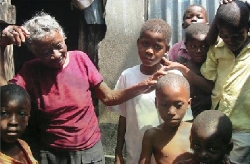 Contact: Christine Schicker, 678-990-9032 Ext. 110, 404-610-8871 cell, cschicker@maximusmg.com; Ashley Walker, 678-990-9032 Ext. 109, 404-791-9725 cell, awalker@maximusmg.com
PARK CITY, Utah, Jan. 30 /Standard Newswire/ -- While independent and mainstream producers, directors and celebrities stepped out for this year's trendy, yet controversial Sundance Film Festival, they were greeted by an unlikely feature. Global Fast – a young movement aimed to unite millions in a day of fasting, prayer and charity was a unique appearance at Sundance this year, because the film fest and faith world usually keep one another at a distance. But Global Fast received a strong, positive reaction from the Who's Who of Hollywood.
"With Global Fast, we can all be a part of the solution," said actor Brian Tee, while attending Sundance for the premiere of his film Finishing the Game.
The new Global Fast movement pledges to make a significant charity impact, as participants in turn pledge their daily food cost to fight injustice and feed the poor around the world. Global Fast believes that everyone (even superstars) can benefit from a day of real fasting and prayer. Their inspiration comes from the prophet Isaiah, who spoke of God's call to 'true fasting' by helping others.
"Fasting to change the world – this is beautiful!", said actor Christian Slater – who took home a custom 'Hungry for Healing' shirt by Global Fast.
Various events featuring Global Fast were hosted by The Dream Factory and El Paso Productions – two independent production companies at Sundance.
"Dream Factory invited Global Fast because we were inspired by the movement. It's a great grassroots vision that connects with our generation," says producer Andrew Bentler whose company The Dream Factory brought celebs, live music and after hours events to the Yarrow Hotel in Park City.
While there are a number of trendy anti-poverty campaigns, Global Fast sets itself apart by highlighting the importance of faith, prayer and individual giving.
"Real compassion means love and sacrifice for those in need. Global Fast is about sacrificial love and asking God for real change through prayer," says Global Fast founder Rich Halvorson. Asked about the highly secular festival's warm reception to the idea of a day of fasting and prayer, Halvorson speculated," Global Fast has a ring of goodness and truth that hits home in people's hearts."
For more information on the Global Fast movement, please visit www.MaximusMG.com/GlobalFast.
To schedule an interview with Global Fast Founder Rich Halvorson, please contact Schicker or Walker at (678) 990-9032.