Candlelight Vigil for Victims of Anti-Tamil Bloodbath in Sri Lanka and Rally for UN Action at Japanese Mission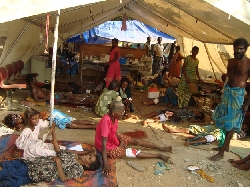 Hundreds of Tamils mourn losses and ask UN to invoke the Responsibility to Protect
NEW YORK, May 5 /
Standard Newswire
/ -- Hundreds will assemble on Friday, May 8, at 3:00 pm outside the Japanese Mission to the United Nations in New York to urge the Security Council and Secretary-General Ban Ki-moon to immediately invoke the Responsibility to Protect and stop the ongoing bloodbath of Tamil civilians in Sri Lanka. After rallying in front of the Japanese Mission from 3:00 pm to 6:00 pm, they will march through the streets of New York City to Times Square, where a candlelight vigil will be held for the hundred thousand Tamil victims of the war.

Photo: Picture of massacre taken May 4th

The Sinhala-dominated Sri Lankan government and military have ignored the world's call for a pause in the ongoing fighting and have continued attacks on Tamil civilian areas, including with aerial bombing, heavy shelling and even chemical weapons. The UN Says: 6,500 Killed and 14,000 injured in last 3 months; Further 2,500 killed since the report and increasing daily. The United Nations and the international community must push the government of Sri Lanka to take a "humanitarian pause" and ensure international aid, monitors and the press are granted full access to the region.
Tamils Against Genocide Event Schedule for Friday, May 8:
3 pm to 6 pm: Japanese UN Mission (49th Street and 1st Ave.)
6 pm to 7 pm: March to Times Square
7 pm to 11 pm: Candlelight Vigil in Times Square
The rally participants will urge Japan, in particular, to actively work at the UN for the safety of Tamil civilians, for assistance to Tamil IDPs that meets international standards and for a political solution to the conflict which recognizes Tamil rights.
The rally is organized by Tamils Against Genocide, a human rights advocacy group working to indict Sri Lankan officials with U.S. ties on charges of genocide. Rally participants will urge the Security Council and the UN Secretary General to save the 150,000 Tamil civilians in the north coast enclave from being slaughtered by the mono-ethnic Sri Lankan armed forces, while assuring the safety of the 300,000 Tamils already under military control.