SERVE Literary & Media Launches; Industry Veterans Lead Nashville-based Literary Firm Built to Connect Christian Publishers, Authors, Ministries, Non-profits and Media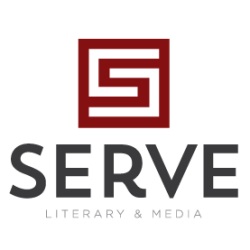 Contact: Jason Jones, 512-720-2996,
jason@serveliterary.com
; Judy McDonough,
judy@serveliterary.com
NASHVILLE, Jan. 9, 2017 /
Standard Newswire
/ -- SERVE Literary & Media, a Nashville-based public relations, digital marketing and literary agency specializing in Christian books and media, officially launches today with a stable of top-tier authors and experts. Industry veteran Jason Jones will serve as President of
SERVE
. The firm can be found at @SERVEliterary on Twitter and on Facebook at /SERVELiterary.
SERVE Literary & Media is a division of PR by the Book, a boutique literary publicity firm founded in Austin in 2002.
"'SERVE' was named as such because it's what we do," said Jones. "Sharing Christ with the world is our purpose, both personally and professionally. Publishers, authors, ministries, speakers and media -- our clients and friends -- have such a powerful opportunity to do that. We serve God by serving them; by connecting them."
Already counted among the firm's ministry partners/clients are international ministries such as Leading the Way with Dr. Michael Youssef and Jewish Voice Ministries International with Messianic Rabbi Jonathan Bernis. The firm also enjoys long-standing relationships with publishers such as HarperCollins Christian Publishing, B&H Publishers, Moody Publishers, Worthy Publishing, Tyndale House, Baker Books and others.
"From a publisher's perspective, we schedule broadcast interviews, place op-eds, garner reviews, consult on content, publishing and publicity strategies, and help them build online platforms. And, we do that exceptionally well because we've been blessed with tremendous experience in our careers," he continued. "From the perspective of our media friends, we are a resource where they'll find dozens of highly-credentialed authors and experts on faith and culture available to them whenever they need them. In fact, they'll be searchable, by topic, on our website. But, where we'll always hang our hat is on relationships … on being trustworthy and dependable, responsive, thorough, thoughtful, personable and honest."
Prior to his joining the PR by the Book team in 2013, and the launch of SERVE Literary & Media, Jones - a 20-year veteran in public relations - spent 5 years with one of the world's largest Christian publishing houses, Thomas Nelson/ HarperCollins Christian Publishing. There, he led campaigns for 11 New York Times bestselling titles and managed some of the industry's most successful authors.
SERVE Literary & Media's team also includes Senior Publicist and former W Publishing Publicity Director Judy McDonough and Digital Marketing Director Jandra Sutton.
As a PR specialist with a 20-year background in entertainment/music and books, McDonough has secured media for clients at nearly every major media outlet in the country, including Today, CBS Evening News, CBS This Morning, New York Times, Associated Press, People, NPR, Fox & Friends, Wall Street Journal and many others.
Contact: Jason Jones,
jason@serveliterary.com
; Judy McDonough,
judy@serveliterary.com
Suggested tweet or post:
Nashville-based @SERVEliterary launches to connect Christian publishers, authors, media, ministries, non-profits
serveliterary.com
.