The President of India Presents Dr. Thomas R. Snyder with the GSA Global Spiritual Icon Award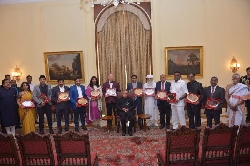 Dr. Snyder meets with religious leaders in India to discuss terrorism and bring Peace to the World through interfaith discourse

Contact: Lorraine Rauch,
Lamb of God Christian Center
, 813-622-8800
TAMPA, Fla., July 10, 2017 /
Standard Newswire
/ -- Lamb of God Christian Center is announcing the return of their senior pastor, Dr. Tom Snyder, from a fourteen day mission in the nation of India. Anchored by the "GSA – World Divine Congress" on June 23rd and 24th, 2017, Dr. Snyder and thirteen of India's religious leaders met to "Engage, Enhance, and Enlighten" in order to "Unite for World Peace and Harmony." Dr. Snyder believes that no matter the religion, faith is a key to bringing peace to the World. In his opening remarks to the Congress, Dr. Snyder stated "Much like there are good and bad children, everyone needs to feel love and be nurtured." The next GSA World Divine Congress is scheduled for December 2017 in Tampa, Florida
Dr. Snyder's mission also included visits to the Children's Home of Hope in honor of their Founder's Day. Children's Home of Hope is an orphanage in Maduraval, Chennai serving 100 children some as young as five. The home is founded by Mrs. Lilly Prabhakar . Rev. Linda Snyder, associate pastor at Lamb of God who accompanied Dr. Snyder, said of the experience "it is surprising how much love these children have considering the circumstances they live in; we all have something to learn from such caring hearts."
The pair also toured Sri Ramachandra University and their groundbreaking Telemedicine Centre as well as a culinary institute offering a three-year professional course. This was Dr. Snyder's second mission to India. He had meet with Mother Theresa on his previous excursion.
During the final portion of their trip, Dr. and Rev. Snyder were blessed with the opportunity to represent Christianity with the honorable Shri Edappadi K. Palaniswami, Chief Minister of Tamil Nadu. Perhaps the most humbling experience of the mission was Dr. Snyder's audience with the honourable Shri Pranab Mukherjee, President of India. On July 1st, Dr. Snyder presented President Mukherjee with a Holy Bible; President Mukherjee presented Dr. Snyder with the GSA Global Spiritual Icon Award. Of the experience, Dr. Snyder expressed "If our service can touch just one heart, the World will be a better place."
About Lamb of God Christian Center:
Lamb of God Christian Center was established in Tampa, Florida by Dr. Tom and Rev. Linda Snyder. Our family-oriented church, full of God's love, enjoys uplifting spirit-filled worship, and biblical teaching through divine revelation. The Gifts of the Holy Ghost are made manifest through the power of God. Our mission is to share God's love to the world, comfort the brokenhearted, give hope to the hopeless, pray for the sick, and preach the salvation of Jesus Christ.

About Dr. Tom Snyder:
Dr. Tom Snyder is founder and senior pastor of Lamb of God Christian Center in Tampa Florida and author of Tribulation and Raptured: The Choice is Yours. He is a man of great compassion with a special anointing. He received an Honorary Doctorate Degree of Divinity, D.D. from the Institute of International Education, Madras, India in 1994. A chosen vessel of God making manifest the gifts of the Holy Ghost to all people, he has received many accolades for his services: the First Winnebago Health Care Center (1989), South Asian Family Services, Dwight L. Moody Ecumenical Leadership Award (1994), Christians of North America Leadership Award (2000). Dr. Snyder has a great love for all people. This love has taken him around the world, ministering to thousands in need of Jesus' divine touch. He has met with leaders of several religions including Mother Teresa.

About the Golden Strategic Associates (GSA) – World Divine Congress:
Golden Strategic Associates (GSA) – World Divine Congress was held in Hyderabad, Telangana, India on June 23rd and 24th, 2017. It is chaired by Dr. Vjay Prabhakar working with the Nri Seva Foundation Headquartered in Schaumberg, Illinois. The mission of the GSA – World Divine Congress is to bring religious and political leaders together to address Worldwide concerns and the work to be done both religiously and secularly to bring Peace to the World.