Save Catholic Relief Services' Emergency Response Program in Niger -- 18 Months Post-Crisis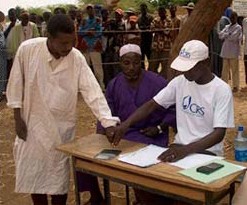 Contact: Hilary Roxe, Communications Officer, Catholic Relief Services (CRS), 410-951-7408
MEDIA ADVISORY, Mar. 1 /Standard Newswire/ -- Eighteen months ago, in July and August 2005, the situation in Niger was cause for international attention. A severe, localized food security crisis affected more than a third of the nation. Grain production was 11 percent below the five-year average and fodder production reached a record low. Cereal prices skyrocketed to 80 percent the normal price, making food inaccessible to vulnerable families without cash or assets with which to purchase staple cereals. Nationally, admission rates to therapeutic feeding centers treating malnourished children soared with rates of mortality and global acute malnutrition in children under 5 above the emergency threshold. In response, the Government of Niger and humanitarian agencies in Niger solicited global response.
Photo: A CRS employee registers beneficiaries for a free food distribution in Zinder during the 2005 food crisis, photo by CRS Staff.
Conscientious citizens of the world are now wondering if the situation in Niger has improved since the crisis of 2005.
Has the situation in Niger improved?
Yes, according to the Government of Niger's Ministry of Agriculture, this year's cereal harvest produced 3.97 million tons, enough to meet national consumption requirements, compared to a 505,000 ton deficit in 2005. Cereals are widely available for purchase in local markets at stable prices.
Are the children of Niger still malnourished?
Yes, but the preliminary results of an assessment, conducted in December 2006 by the Government of Niger, UNICEF, WFP, and Helen Keller International, reveal that the rate of global acute malnutrition (weight for height) dropped from 15.3 percent in 2005 to 10.3 percent in 2006. This success represents the diligent efforts to improve child nutrition on behalf of the Government of Niger, humanitarian agencies, communities, and caregivers.
Does the situation in Niger still warrant international attention, concern, and support?
Yes. Although this year's harvest was better than those of year's past, pockets of Niger are still affected by deficits, and as a result, many households will face food insecurity in the coming months. Child mortality is grievously high, and 43.8 percent of children are stunted, not having reached their target height for their age group, as a result of chronic malnutrition. Niger is still among the poorest countries in the world with 63 percent of the population living on less than $1 a day.
How has CRS helped and what are they doing now?
CRS has been responding to food insecurity in Niger ever since the agency first established a presence in 1991. In 2005, CRS and local partners responded to the crisis with a series of interventions including, distribution of food through free food distributions and the Food for Work program; distribution of seeds and tools through the Seed Vouchers and Fair program; treatment of malnourished children through a nutritional rehabilitation program; ultimately reaching 259,670 direct beneficiaries and approximately 223,470 additional indirect beneficiaries in the departments of Dakoro, Ouallam, Tillaberi, Doutchi, and Tanout.
In 2006 and up to present, CRS and local partners continued to support Nigerien families as they recovered from the previous year's shocks through the following interventions;
Conducting rainy and garden-season Seed Vouchers and Fairs that permit 21,500 farmers access to seeds and tools;
Facilitating Agro-enterprise trainings that provide 900 cash crop agriculturalists with a better understanding of marketing their produce;
Constructing 185 garden wells through Cash-for-Work, permitting at least 740 farmers to participate in off-season vegetable production;
Construction of 24 fodder (for livestock) banks to benefit 2,400 pastoralist families;
Facilitating Food-for-Work and Cash-for-Work activities that enable 208,030 vulnerable families to earn an income while engaging in community building projects;
Administering vitamin A, an essential micronutrient proven to reduce child mortality, to 6,000 pastoralist children;
Supporting the operation of 33 nutritional rehabilitation centers and

treatment of over 25,700 malnourished children;
Distributing essential non-food items such as blankets and kitchen kits to 791 families affected by floods in July and August
Sensitizing health workers and 236 communities on the Avian Flu virus
In 2007, CRS will continue to assist vulnerable Nigerien households affected by crisis. In late February, CRS and partner Caritas Development Niger will distribute tents to 675 homeless families in Bilma who are suffering through cold temperatures after the past rainy season floods.