Burundian Journalist, Jean-Claude Kavumbagu Honored by NABJ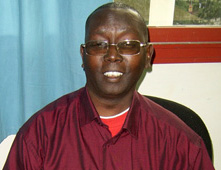 Kavumbagu exemplifies the brave spirit all journalists should strive to embody
WASHINGTON, July 11, 2011 /
Standard Newswire
/ -- The National Association of Black Journalists (NABJ) announced Jean-Claude Kavumbagu, a Burundian internet journalist, will receive the organization's 2011 Percy Qoboza Foreign Journalist Award. The honor will be presented at the association's 36th Annual Convention and Career Fair in Philadelphia, PA, the nation's largest annual gathering of minority journalists.
Kavumbagu, editor of the online daily NetPress, has been arrested on multiple occasions for speaking out about issues such as corruption in government. Kavumbagu was just released in May after spending ten months in prison. Kavumbagu published a blog post after a Ugandan attack by suicide bombers resulted in 74 deaths and 70 injuries. The following day the published piece on his website criticized the ability of Burundian forces to defend the country in the face of a similar attack.
He was arrested, charged with treason, questioned without the presence of a lawyer, and imprisoned. In Burundi, treason carries a maximum sentence of life imprisonment. His arrest was denounced by a number of international human rights organizations, including Amnesty International, and the Committee to Protect Journalists. A number of journalism and press freedom organizations called for the charges against Kavumbagu to be dropped.
In 2008, Kavumbagu was also arrested following the publication of an article in which he alleged that the cost of President Pierre Nkurunziza's trip to see the Beijing Olympics (an estimated 100 million Burundian francs) caused some civil servants' salaries to be paid late. Following a government statement that the trip had only cost half of the alleged amount, Kavumbagu was charged with "libelous writing and insulting remarks. He served six months.
"The unjust detention of journalists is a violation of freedom of the press and the international community must raise its voice to these injustices," said NABJ President Kathy Y. Times. "In recognizing the bravery and courage of Kavumbagu we are calling attention to the plight of many imprisoned journalists across the world penalized for their journalism."
The Percy Qoboza Award, named for a South African journalist, is given to a foreign journalist who has done extraordinary work while overcoming tremendous obstacles that contributes to the enrichment, understanding or advancement of people or issues in the African Diaspora.
"We share other journalism organizations' relief that Jean-Claude Kavumbagu has been released. However, we remain concerned about the state of journalism in Burundi, particularly since other journalists feel they're working under threat of arrest and imprisonment. NABJ calls on political and judicial leaders in Burundi to ensure that journalists are allowed to freely practice their profession in the country," said John Yearwood, World Editor at the Miami Herald and Co-chair of NABJ's World Task Force. Yearwood chairs the task force along with Dr. Djbrill Diallo.
Kavumbagu will be honored on Thursday, August 4, 2011 at NABJ's Annual Convention and Career Fair, which will take place August 3-7 in Philadelphia, PA. For additional information, ticket sales, and registration,
please visit here
.