MCC Shipping Supplies, Blankets to Displaced Iraqis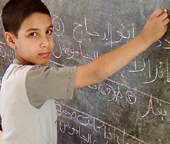 Contact: Gladys Terichow or Mark Beach, both with Mennonite Central Committee, (011) 98 912 610 6252, meb@mcc.org
WINNIPEG, Man., Feb. 24 /Standard Newswire/ -- Mennonite Central Committee is responding to the growing humanitarian needs in Iraq where persistent violence and civil tensions are driving people from their homes.
Photo: A student at a Baghdad school supported by MCC
About 500,000 Iraqis have fled their homes for other areas inside Iraq this past year and internal displacement is continuing at a rate of about 50,000 people per month, said Rick Janzen, co-director of MCC's Middle East and European programming.
In response to the growing humanitarian needs, MCC is sending 4,200 relief kits, 11,000 newborn kits, 22,000 school kits, and 16,000 blankets to be distributed by local humanitarian agencies working with vulnerable families in Baghdad and surrounding communities.
The first three containers will be sent in early March from MCC warehouses in Canada and the United States. Four more containers will be sent within the next few months.
Janzen said the recent movement of people involves people of all religions and ethnicities; however, many are victims of civil strife between Shia and Sunni communities. "Before people were living together in mixed areas, now they are moving to areas of the city where they congregate as ethnic and religious communities," he explained.
This displacement of people, amid the ongoing violence in Iraq, presents an enormous humanitarian challenge and extreme hardship for the displaced, the host communities and local humanitarian aid agencies.
"These people need urgent assistance," said Janzen, explaining MCC's local partners are requesting assistance to help them respond to the needs of people who have lost their homes and sources of income.
UNHCR, the United Nations refugee agency, reports the population movements in Iraq show no sign of abating. The agency estimates that the number of internally displaced Iraqis now totals over 1.7 million. Most were displaced prior to 2003 but an estimated 500,000 people have been displaced since the Samarra bombings in February 2006.
UNHCR also estimates up to 1.8 million people have fled to neighbouring states. Although estimates for the immediate neighbouring states are imprecise, the agency estimates there are up to 700,000 Iraqis in Jordan, 600,000 in Syria, 100,000 in Egypt, 20,000-40,000 in Lebanon and 54,000 in Iran.
Many of those outside the country fled over the past decade or more, but now some 2,000 a day are arriving in Syria and an estimated 1,000 a day in Jordan. Most do not register with UNHCR.
The UN agency also reports that many urban professionals have already fled. Doctors, teachers, computer technicians and other skilled people crucial to the country's stability and well-being are leaving.
Janzen said Patriarch Zakka of the Syrian Orthodox Church said about 50 per cent of Iraq's small Christian community has already been displaced, internally and outside the country.
MCC has been working with local partners in Iraq for 10 years. MCC's Iraq staff is based in Jordan.