Parents Should Do Their Homework to Aid Autistic Child's Education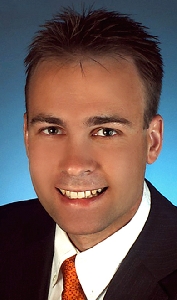 Contact: Oliver Wendt, 765-496-4831, olli@purdue.edu; Tanya Brown, Purdue University News Service, 765-496-9711, tanyabrown@purdue.edu; Purdue College of Education, Purdue Augmentative and Alternative Communication Program
WEST LAFAYETTE, Ind., Mar. 9 /Standard Newswire/ -- A Purdue University professor says the challenges of educating a child diagnosed with various autism disorders are best met by parents with knowledge and a guiding set of principles.
Photo: Oliver Wendt, hi-res available
With the Centers for Disease Control and Prevention now estimating that as many as 1 in 150 children may be affected by an autism spectrum disorder, more parents than ever are facing concerns and questions as they send their children into the school systems.
Oliver Wendt, an assistant professor of educational studies and speech, language and hearing sciences, researches developmental disabilities including such disorders, which often are characterized by social and cognitive impairments as well as severe communication difficulties.
"It's important for parents, educators and clinicians to keep an overview of how different intervention and treatment programs are affecting the child," he said. "There is no tried and true method. Education and therapy needs to be tailored to fit each individual child."
Wendt, who is currently researching communication strategies for those autistic children who have no functional speech or language, offers these tips for parents trying to ensure their children receive strong educational and therapeutic support:
- Work with your school system to ensure that your child is being taught several forms of communication. Since nearly half of all children with autism may never develop functional speech or language, it is important to give them outlets for expression. Even children who have some speech may find it difficult to interact using language at all times. Options include gestures and sign language, teaching the child to select graphic symbols or line drawings appropriate to his or her needs or feelings, and electronic speech-generating devices.
"Tantrums and inappropriate behaviors at home and school, such as biting or hitting, are very often a result of when a child with autism is frustrated with communication," Wendt said. "If no one understands what you want, you are going to get angry."
- Communicate your child's personality with educators and clinicians as often as possible. Parents know a child's likes, dislikes and breaking points better than anyone. Tipping professionals off to a child's joys and quirks can help them plan a tailored program.
- Remember that you have the final say in how your child is served. If, after an appropriate amount of time, you feel that a particular approach is not working or that your child is not progressing quickly enough, ask for a change. "A good educator and clinician will always be willing to try different avenues," Wendt said.
- Don't fall for hype. Use recommendations from professional organizations, autism centers and support groups and scientifically valid resources to ensure that your child's education is being carried out with proven practices.
"Because autism spectrum disorders are still such an enigma, there are a lot of unsupported quick-fix approaches out there," Wendt said. "Go with treatments that are empirically supported and well-researched."
- Use tact when communicating your concerns with professionals. Even if you disagree with their methods, most teachers and clinicians want the same thing you do - the best possible education and treatment for your child.
"We're making a strong effort to educate future teachers and clinicians about the most up-to-date and proven methods for treating children with autism spectrum disorders," Wendt said. "Sometimes, teachers who have been in education for a while rely on school policy or gut feelings to formulate their approaches. If you want to try something else, show them the research and acknowledge that you are both working toward a common goal."