Influx of Displaced Flood South Darfur; IMC Provides Critical Medical Care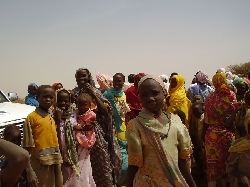 Contact: International Medical Corps, 310-826-7800, 202-828-5155
AL SALAAM IDP CAMP, South Darfur, Feb. 28 /Standard Newswire/ -- Adam Ibriham Osman was clearly worried.
His dark eyes squinting against the midday sun and a whipping desert wind, the old man told how his village had fled en masse from marauding fighters and how some forty families had found their way to the edge of this fast-growing camp for internally displaced persons (IDPs), about 11 miles south of South Darfur's capital, Nyala.
Photo by Dr. Jill John-Kall, Thousands of displaced people have fled to Al Salaam camp in South Darfur since the beginning of this year. Hi-resolution version
His group of well over a hundred had already waited six days to register at the camp and food was running dangerously short.
"We need help," he said, looking at the dozens of uprooted neighbors and relatives surrounding him. "We all need help."
Osman and those who had traveled with him on an odyssey that began from their home village of Gohz Karbi, about 100 miles south of here, are part of a new influx of IDPs that has swollen the population of Al Salaam by several thousand since the beginning of this year. Earlier this week (Feb. 26th), hundreds of exhausted new arrivals, including Osman and his fellow villagers waited quietly in the shade of near-by trees to be registered by camp authorities—the key first step to getting food. Their presence left little doubt the camp's growth would not likely end soon.
As they waited, a team from International Medical Corps' primary healthcare clinic, only a few hundred yards away, went out to treat those suffering from the effects of the arduous journey, the dearth of food and the long absence of any meaningful medical attention.
"About 300-400 per day have been arriving every day for about the last 40 days," noted a senior member of IMC's Nyala-based staff. In a separate interview, a local Sudanese government official talked of 70 to 100 new families a day.
The new arrivals mean more patients for IMC's clinic which provides primary health care for the camp's estimated 7,000 residents. Earlier this week, IMC's medical team saw 180 patients during a single day—more than twice the usual daily volume of 75-80. The team checked new arrivals and camp residents for signs of malnutrition, general illness, provided important vaccinations, and offered reproductive healthcare to pregnant women and mothers of newborns. If needed, medicines were dispensed.
IMC's primary healthcare clinic at a second camp, Al Serif, about 10 miles west of Nyala, has not been affected by new IDPs because the camp no longer accepts new residents.
The scene at Al Salaam represented one more indicator that, nearly four years after the conflict here began, conditions for the long-suffering people of Darfur seem to be getting worse, not better. Fighting that began as a conflict between the region's government-backed Arab-Sudanese militias and African-Sudanese rebel forces appears to be splintering into a far more complex and bewildering conflict that now includes factional fighting on both sides.
Amid these chaotic conditions, the space for international humanitarian groups to operate is shrinking as new splinter groups attack them for their cars, radios and other equipment required to wage war. Isolated communities and villages previously untouched by the fighting have been attacked and looted now for the same reason.
At the Al Salaam camp, new arrivals talked of bands of armed men descending on their villages in the dead of night, threatening and terrorizing them while looting all the community had.
"They took our crops, they took our food, they took our donkeys," said Hassan Mohammed, who identified himself as responsible for members of seven families, many of whom sat or lay in a dazed exhaustion. The leader told how the families pooled their resources to pay the equivalent of $300 for a truck to cart them and their few remaining possessions more than 100 miles to the camp.
For Hassan and for Osman – both elders of their respective communities—the very idea of one day returning home seemed beyond them at least for now.
"Go home?" asked Hassan, repeating a question put to him by a visitor. "To do what? For what? It's all gone. My people are here now."