New Record: East TN Woman Gives Birth to Daughter who Spent 24 Years as Frozen Embryo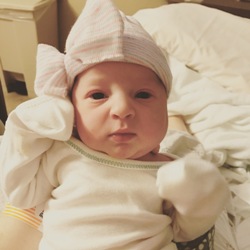 Contact: Mark Mellinger, National Embryo Donation Center, 865-696-1870, mmellinger@baby4me.net

KNOXVILLE, Tenn., Dec. 19, 2017 /Standard Newswire/ -- A woman living in East Tennessee has delivered the longest-frozen embryo to successfully come to birth. Emma Wren was born to Benjamin and Tina Gibson on Saturday, November 25, 2017, weighing 6 lbs. 8 oz. and measuring 20 inches long.

Prior to being transferred into Tina's uterus at the National Embryo Donation Center (NEDC) in Knoxville earlier this year, Emma had been cryopreserved for more than 24 years. According to research staff at the University of Tennessee Preston Medical Library, baby Emma now holds the all-time record for the longest-frozen embryo to come to birth.

Emma was frozen on October 14, 1992 and thawed by NEDC Lab Director Carol Sommerfelt on March 13, 2017. Tina became pregnant with Emma as the result of a frozen embryo transfer (FET) performed by NEDC Medical Director Dr. Jeffrey Keenan on March 15, 2017. Tina, 26, spent her pregnancy carrying an embryo conceived just 1.5 years after her own birth. "Emma is such a sweet miracle," proud papa Benjamin said. "I think she looks pretty perfect to have been frozen all those years ago."

"The NEDC has been privileged to work with the Gibsons to help them realize their dreams of becoming parents," said Dr. Keenan. "We hope this story is a clarion call to all couples who have embryos in long-term storage to consider this life-affirming option for their embryos."

"It is deeply moving and highly rewarding to see that embryos frozen 24.5 years ago using the old, early cryopreservation techniques of slow freezing on day one of development at the pronuclear stage can result in 100 percent survival of the embryos with a 100 percent continued proper development to the day-3 embryo stage," said Sommerfelt. "I will always remember what the Gibsons said when presented with the picture of their embryos at the time of transfer: 'These embryos could have been my best friends,' as Tina herself was only 25 at the time of transfer."

The faith-based NEDC has gained distinction as the world's leading comprehensive embryo adoption program, with more pregnancies (nearly 700) through embryo adoption than any other organization or clinic. Its dual purpose is to protect the lives and dignity of frozen embryos that would not be used by their genetic parents and to help other couples build the families they have longed for via donated embryos. Embryos have been donated to the NEDC from all 50 states and couples have traveled to Knoxville from all over the United States as well as some foreign countries for their embryo transfers. Our website is www.embryodonation.org.

For more information, or to schedule interviews, please contact Mark Mellinger at (865) 696-1870 or mmellinger@baby4me.net.