Chrisagis Brothers Taking Legends on the Road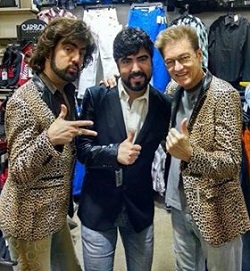 Contact: Lynda Sullivan, 304-650-0425
YORKVILLE, Ohio, March 15, 2018 /
Standard Newswire
/ -- The
Chrisagis Brothers
who have become known by both legends in Hollywood and in CCM have been very busy. Their hit radio show has had so many amazing guests like Lindsay Wagner, Cheryl Ladd, Joe Penny, Loni Anderson, Erik Estrada, Kevin Sorbo and tons of other Hollywood Stars. Their show gives these legends a platform to share their faith in Jesus.
Photo: The Chrisagis Brothers with David Meece
They are now talking about turning the radio show into a TV talk show. They have created TV concepts for 24 hour programming 7 days a week and had some great meetings about many of there TV projects. Plus the Legends events that they have been doing with award winning CCM artists have really taken flight. In 2015 they did their first Legends show and saw how people packed into the arena. Now, with four years under their belt, they have two huge Legends concerts for this year. The 1st is Saturday, Aug. 18th at Rayland, Ohio High School which has their long time friend Emmy Award Winner Jack Scalia co-hosting with them. The performers are Top Grammy & Dove Award Winners Russ Taff, Michael English, Jaci Valasquez, Phil Keaggy, & Leon Patillo. The second event is Oct. 20th in Eureka Springs, Arkansas Auditorium with Scott Wesley Brown, Bruce Carroll, Farrell & Farrell, David Meece, Steve Camp, & Leon Patillo. They will be conducting classes on song writing, praise and worship and training for ministry life.
The brothers have also agreed with a theater in Moundsville, West Virginia called the Strand to bring in the Legends for two artists at a time in the new Chrisagis Brothers LEGACY Concert Series - the first one is Friday, May 25th at 6:30p.m. with John Schlitt from Petra & David Meece who will be celebrating his 66th Birthday with the audience. More concerts will follow. For more info check out
chrisagisbrothersministries.org
.