American Legion Thanks Congressional Leadership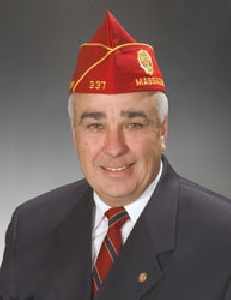 Contact: Ramona Joyce, 202-263-2982, 202-445-1161 cell; Joe March, 317-630-1253, 317-748-1926 cell; both with the American Legion
WASHINGTON, Jan. 16 /Standard Newswire/ -- The National Commander of The American Legion, Paul A. Morin, today voiced his appreciation to Speaker of the House Nancy Pelosi and Senate Majority Leader Harry Reid for their leadership role in reinstating the traditional Joint Sessions of the House and Senate Veterans' Affairs Committees for veterans' service organizations. Morin also thanked the Senate and House Veterans Affairs Committees' leadership for their efforts in reinstating The American Legion's full voice on Capitol Hill.
Photo: Paul A. Morin, National Commander
This wise decision restores vital congressional forums for the entire veterans' community, Morin said. The ground swell of support for restoring these joint sessions by the grassroots at the local, state, and national level was overwhelming.
"Many thanks go to Legionnaires across the country for remaining persistent and keeping this issue on the forefront with their congressional representatives," Morin said. "This is a big win for The American Legion family. On behalf of all veterans, our voice will once again be heard, and heard loudly this fall during the reinstated hearings."
The American Legion takes full advantage of this joint session to address its legislative agenda for the next session or the new Congress. Featured in this hearing is the newly elected National Commander addressing resolutions adopted at The American Legion's National Convention. The National Commander also offers budget recommendations for the Department of Veterans Affairs for the next fiscal year, months ahead of the President's official budget request. This joint session also provides Congress with valuable information with regards to key topics for future hearings as well.


Again, the wartime veterans of The American Legion sincerely appreciate Speaker Pelosi and Senator Reed's continued leadership and support of the entire veterans' community.
"The American Legion looks forward to working with the new leadership not only for the remainder of my tenure, but for years to come," Morin said.
Founded in 1919, the 2.7 million-member American Legion is the nation's preeminent service organization for veterans of the U.S. armed forces, including active duty, National Guard and Reserves, and their families. A powerful voice for veterans in Washington, The American Legion drafted the original GI Bill and was instrumental in establishing the agency that today is the federal Department of Veterans Affairs.
Tweet